San Antonio Area Fishing Lures
Aquasonic Lures, Universal City & Cibolo, Texas
Barbera Rat and Barbera Mouse, made by Shakespeare Co., Kalamazoo, MI, for Barbera Sporting Goods Co., San Antonio, Texas. (A Texas Bait: The History of the Barbera Rat: article in the NFLCC Magazine, winter 2015, Vol. 25, No. 2)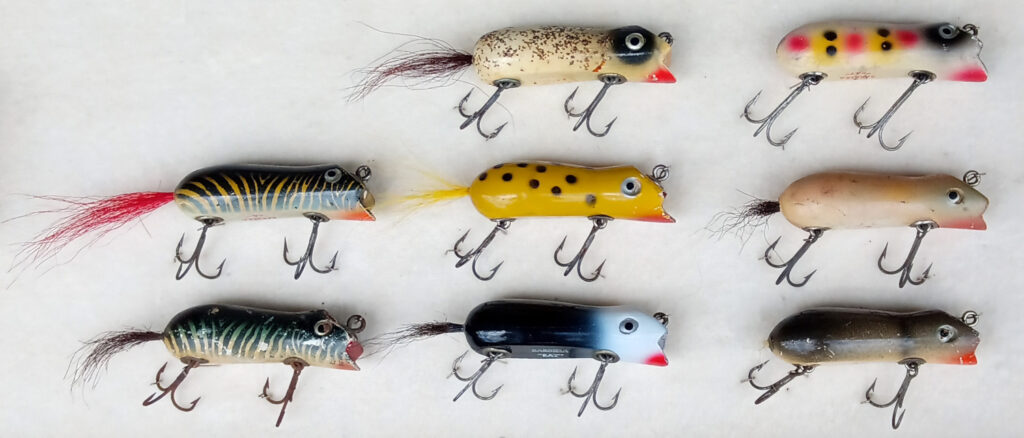 Demon Lure Company, San Antonio, Texas – maker of the Sail Shark and the Bat: http://sailshark.com
DooDad Baits, Kerrville, Texas. Made by Winston C. "Windy" Gray.
The source for these lures pictured above was reasonably certain the lures were in their correct boxes: 101-green scale, yellow belly: 102-brown scale: 103-gray scale: 104-black, white belly, white wings: 105-black, yellow belly, yellow wings; 106-red head, white body, black wings; 107-unknown; 108-unknown (box only); 109-unknown; 110-all black body, yellow bill, white wings. Update – recently a Doo Dad box insert has been found which lists the Doo Dad colors as follows: 101 Green Perch, 102 Minnow, 103 Gray Mouse, 104 Black Nite, 105 Black Boy, 106 Red Head, 107 Doo Dad, 108 Black Widow, 109 Frogie, 110 Black Girl, 111 White Nite, 112 Yellow Perch. (Insert pictures courtesy of Glenn Harris)
A current Kerrville resident, whose father knew Windy Gray, said that DooDad lures were at Gray's Radiator Shop at 201 Water St. in Kerrville. Whether the lures were made at this site remains to be determined. The Kerrville City Directory didn't list Gray's shop at this location until the 1954-55 edition. The DooDad box insert has the address for the DooDad bait company as 512 1/2 Jefferson St., Kerrville, Texas. This was the site of a radiator shop/automotive shop that Windy Gray was associated with from the mid 40s to the early 50s. This would indicate that the lures were already in production prior to opening his radiator shop at 201 Water St.
Finmaster Lures, San Antonio, Texas – maker of the Finmaster III.
Lovelace Mfg. Co., San Antonio & Bandera, Texas – maker of the Breathing Minnow and Winny-Dink.
Mack's Tackle Workshop, San Antonio, Texas – maker of various baits including the minno-bug, flyrod bugs, cork bugs, etc. (Listed in the San Antonio phone book from 1944-1955 at 513 1/2 Dolorosa.)
Medina Mouse, made by Shakespeare Co., Kalamazoo, MI, for San Antonio Fishing Tackle Co.
Pico Lures (Padre Island Co.), moved to San Antonio, Texas in 1962 – maker of various lures including Pico Chico, Pico Perch, Mullet, Pico Pop & Lil Pop, Side Shad, Piggy Boat, and others. https://www.mybaitshop.com/blogs/blogging-at-the-bait-shop/pico-lures-a-short-history-of-the-company
Schoolmaster Boat & Tackle Company, San Antonio, Texas – maker of the Schoolmaster Lure, Schoolmaster Perch Lure, and Schoolmaster Shrimp. Robert P. Nelson was the owner of this company. (1960 is the only year the company was listed in the San Antonio phone book.)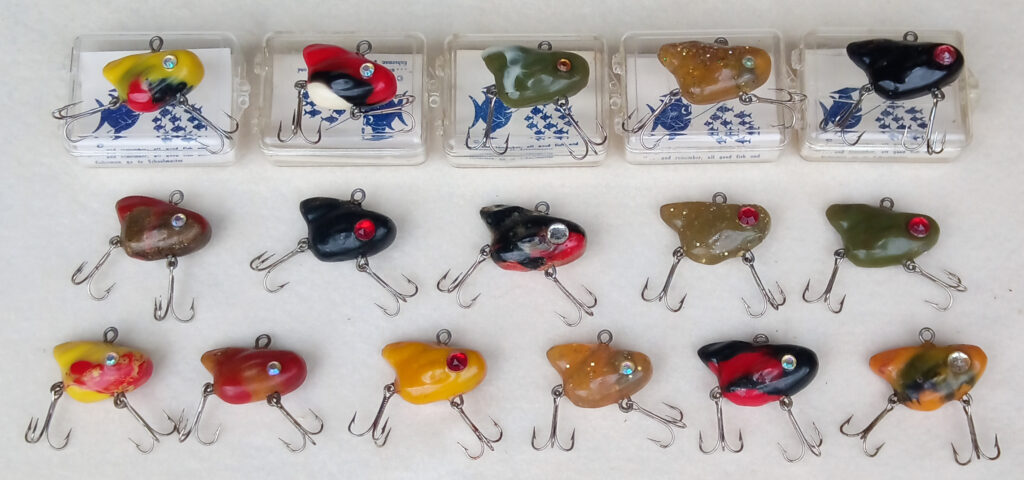 Southwestern Fishing Tackle Co., San Antonio, Texas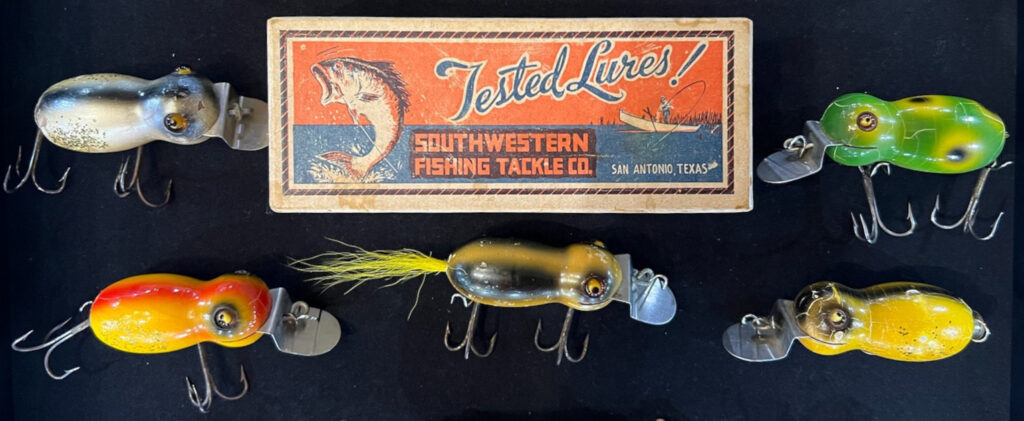 Contact: admin@sailshark.com